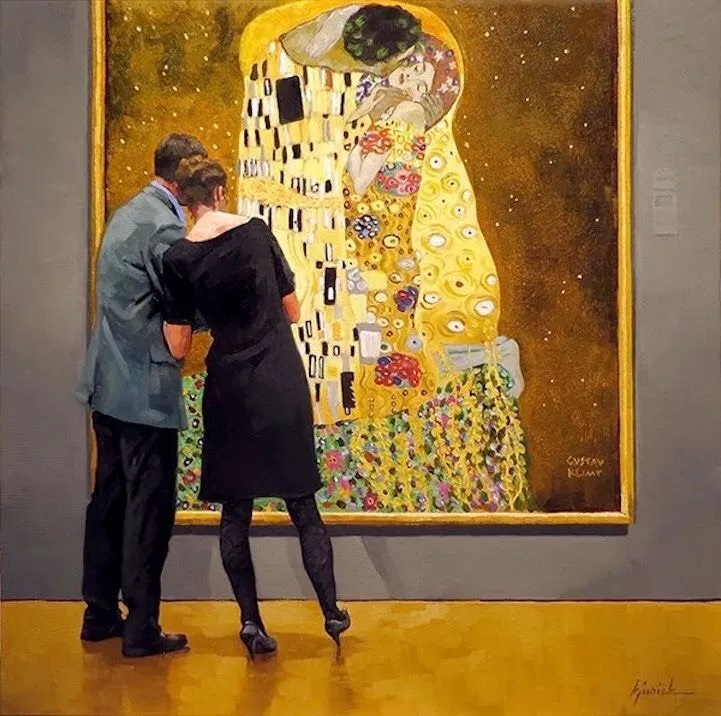 Hey Babe! What's your name…
Art is not what you see, but what you make others see… Edgar Degas
So What's in a name….Well the name of the Painting above is pretty self explanatory. Gustav Klimt's "The Kiss".
The painting depicts a couple embracing, well he's bear-hugging her really but who doesn't love a good bear- hug.Their bodies
are entwined in gold and silver elaborate robes.The man cradles the woman's face as he leans in to kiss her. Its a stunning Painting and arguably Gustav's (yes we are on a
first name basis) most popular piece. It really does do exactly what it says on the tin….
We know what it is and it's utterly wrapped up in Love and Romance.
In 1871 a good 35 years or so earlier James Mc Neill Whistler painted his most famous Painting. It was titled
"Arrangement in Grey and Black".Initially when he presented this Painting to the Royal London Academy they were unhappy
with the work. As a result Whistler added the words "Portrait of the Artist's" mother to the arrangement title just for The Royal Academy and the Painting was excepted. As a result this Painting has always been called "Whistler's Mother",because unlike the original title suggests "Arrangement in Grey and Black" it is actually a Portrait of his mother.
Never mind the Royal Academy , I reckon his mum was none too pleased either. However when you see the painting you can totally get ,well from an Artists point of view anyway why he titled it "Arrangement of Grey and Black"
However the whole name changing incident shows the degree to which a Title name matters to people who will see and maybe perhaps buy a Painting.
Choosing a good Title matters hugely to me and it should matter.It will say something about the piece to the viewer. I feel people will experience more from a Painting when it is thoughtfully titled.It can be powerfully evocative and thought provoking.It is essential for me that the viewer feels moved and a good title will
feed that emotion.I don't like to fully explain whats going on in the painting as I like the viewer to decide for themselves , but it is important to me that the viewer understands the visual narrative of the Painting.
Anyone that knows me very well, knows I'm an
avid lover of poetry and i do find a lot of my titles in prose, but its challenging when I know what I want to say and what I see in the piece but I don't want to give too much away.Most people will come to one of my Paintings and they will look at it for a few seconds….and then they will bow their head and look for the Title, its my favourite part of showing my Art.They are engaged.They are already drawn in visually but the title will now draw them in emotionally and that's when my work connects.
They see what I need them to see.The interactions,the shapes of my figures in the piece, their closeness or the ones who are keeping distance.The bow of their heads…They will feel the atmoshere and mood of the work.
This is why I'm not a fan of "Untitled" as a name for a Painting.Lets look at Jackson Pollock for example.
Keeping inventory on his work must be a nightmare.Some have names but a lot have numbers .I love No.19. I cant even remember where exactly I seen it .No doubt I will visit the same place again and I will be Like Ah!!! so this is where I know you from…So Whats your name ….